What Is Golf Cornhole?
If you're not familiar with the viral new golf game, Golf Cornhole, it can be described as a spinoff of the more old-fashioned, traditional cornhole bean bag toss game. Combining the traditional cornhole game with golf brings you Golf Cornhole.
Instead of tossing bean bags, you'll be using a golf club to putt or chip a golf ball with the hopes of getting it into a scoring hole on a cornhole board 15 feet away.
There are various games and rules for Golf Cornhole so you are able to change up the way you play. An awesome way to work on your short game with your lob wedge, chipping wedge, or sand wedge. It can also be used as a golf chipping game and used as a training aid for chipping.
Golf Cornhole is a simple golf game that can give hours of fun for most ages, golf enthusiasts and non-golfers alike. A game the whole family can enjoy. It's simple enough that even children can play with a little coaching.
Equipment Needed to Play Golf Cornhole
You can find a variety of golf cornhole sets at many price points. Most have a surface area made from wood or canvas. Two examples are shown here. If you have the ability and desire you can even make the boards yourself.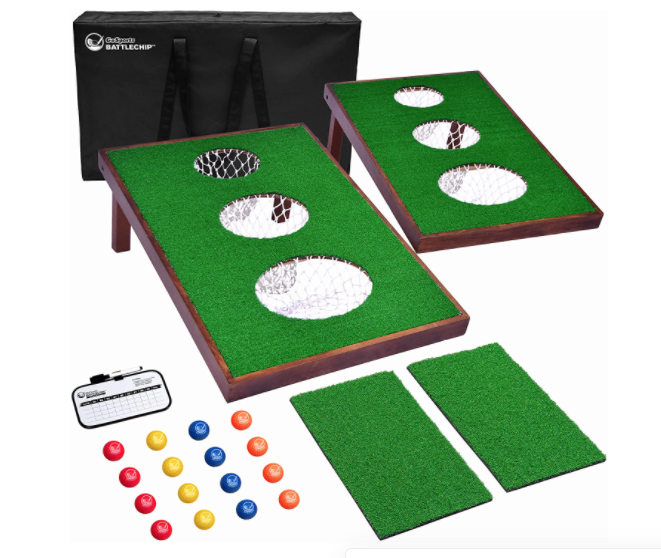 How To Play Golf Cornhole
Setting Up The Game
There will be two teams of two players, one team per board. You can also play a two player game having 1 person per team or even play alone. Choosing teams can be random.

If you have the choice of your partner you might want to consider Tiger Woods or John Daly – okay so that probably isn't going to happen so another route is to flip a coin.

Set the boards up 15 feet apart.  You can always have them closer or further away depending on the skill level of the players.
Playing Golf Cornhole
There are various ways to play –
Game #1 – Cornhole Style – Points Cancellation Scoring to 18
One team will go first. Decide by a toss of a coin or some other method. 
The first player (say Tiger Woods) on the team takes 3 turns.  Add the points for all 3 turns (see scoring below). 
The second person on the same team then takes 3 turns and add the points as the previous player did.  
Whichever player on the team scored the highest points are the points counted for that team.
After both players have gone play goes to the other side, Team 2. Played is exactly like the previous team. The first opponent standing on the other side (say John Daly) takes 3 turns. He would then add the points for all 3 turns.
The second person on the team then takes 3 turns and add the points as the previous player did.  
Whichever player on the team scored the highest points are the points counted for that team.
However, both teams do not get to count their points toward the game.
The scoring points go to one team; the one that had the highest points. 
But not all the points are given.  The score for the lowest team is subtracted from the higher team and that is how many total points are scored for that round.
Game #2 Six Balls
If you're looking for a game that is both challenging and fun, look no further than Six Ball!
This two-player game is perfect for both Match Play and Cornhole fans.
Each player stands next to his or her board and chips all six balls toward the opponent's board.
After tallying the score for all six balls, the players chip the balls back to their boards and tally the new score.
Game #3 – Match Play – 9 or 18 Holes
Match play is a golf cornhole format in which players compete one-on-one, rather than in teams. The objective is to win more holes than the opponent.
There are two ways to play match play – 9 holes or 18 holes. Nine hole match play is the quicker of the two, while 18 hole match play is more common.
You take three shots in a row and tally your total score. Your opponent standing next to you goes next.
The player with the highest total score wins that "hole" for his/her team. 
What To Look For In A Golf Cornhole Game Set:
When looking for a golf cornhole set, make sure to look for one that is regulation size. This will ensure that the game is played correctly and that the boards are the correct size.
Another feature to look for is durable construction that will withstand frequent use.
With outdoor use you might want to see if the boards have any weather-resistant features such as being water-resistant; heat-resistant; rust-resistant; UV-resistant and mildew resistant.
Some boards have foldable steel legs while others have built-in storage compartments for the chipping mats and balls.
You will also want to make sure that the set includes a carrying case for easy transport. 
However, in the end, choose the set that best meets your needs and preferences. 
What Are Some Golf Cornhole Game Tips?
Here are a few game tips to help you improve your game?
Make sure you practice regularly. The more you play, the better you'll become.
Stay focused and stay in the moment. Don't get too wrapped up in winning or losing – just focus on playing your best.
Learn from your mistakes. If you make a mistake, analyze what you did wrong and try to fix it the next time you play.
Keep your body strong and flexible. Staying in good physical condition will help you play your best.
Have fun! Be sure to enjoy yourself.
In Conclusion
From golf enthusiasts to someone just starting out, or not a golfer at all the Golf Cornhole Game – Golf Meets Cornhole is an exciting game for all skill levels that nearly everyone can play.
For a great gift idea or your next outdoor barbeque, family get-together, or even when you're alone bring this backyard game, your clubs, and play a few rounds.
If you have any experience with cornhole golf or other traditional backyard games I would love the hear about them. Please comment below.