Glass rinsers
, whether it's a
Cup Cleaner for sink
or a home
cup rinser
, are sprayers designed to
clean cup
and the inside of bottles more thoroughly than your handheld sprayer or
dishwasher
. But there are so many
types of glass rinsers
on the market and their quality varies. It takes a lot of time and effort to pick out a
good glass rinser.
Take it easy! We have done this trivial matter for you. We have done a lot of research and summarized and listed the
 best glass rinsers in 2022
. So, check out the products mentioned below to choose the one that suits your requirements.
HGN Metal Kitchen Sink Glass Rinser, Faucet Glass Rinser for Kitchen Sinks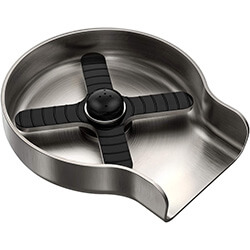 This HGN glass washer is stylish and suitable for a variety of kitchen settings. The multi-angle water outlet cleaning head nozzle can effectively clean the cup. This Cup Cleaner for sink is easy to operate, saving time and effort. The brushed nickel finish of this product resists water stains and fingerprints, keeping it clean.
If you're one of those people who hates recurring fingerprints and stains on cleaning items, this product is a great option for you. With this product, you can enjoy cleaning glassware without worrying about creating marks in your Cup Cleaner for sink.
Glass Rinser for Kitchen Sink Matte Black, Kitchen Sink Replacement for Bar Sink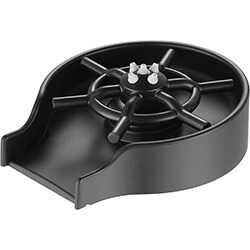 The WiPPhs kitchen sink cup rinser has a plastic base tray and a brass rinser handle. You don't need to worry about quality because the base is made of high-strength plastic that is as hard as metal. Jet pointed at different angles clean every nook and cranny of your drinkware. This user-friendly layout is designed to save time and effort. It will have no watermarks or fingerprints on the matte finish and it will complement your black bar sink well.
Installing tools like a Cup Cleaner for sink can sometimes be stressful for some people. But it already includes the required installation accessories as well as the user manual, and you can easily install it yourself.
Delta Faucet Glass Rinser for Kitchen Sinks, Kitchen Sink Accessories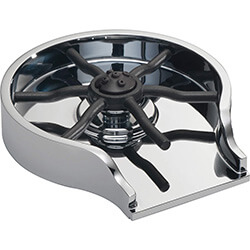 Delta is one of the leading brands in the home plumbing industry, but their brilliance isn't just about faucets. They are also known for other fixtures like cup washers. The GR150 is one of their most popular products and you'll find it in many bars. It has great performance and complements any kitchen counter, making it such a popular choice.
You can easily attach it to any standard sink or countertop using any brand of faucet. As for performance, the powerful water flow can rinse any drink or bottle in just 2 seconds. Suitable for bottles with a 1″ opening diameter. What's more: the rinser comes with a supply line that connects to a hot or cold pipe.
iVIGA Glass Rinser for Kitchen Sink, Metal Matte Black Bar Glass Rinser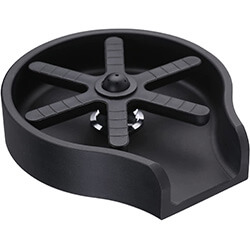 With classical and elegant design, this matte black glass rinser can be matched perfectly with your kitchen. Multi-angle water outlet cleaning head realizes multi-angle spray hole washing and effectively wash your cup, saving time and effort, convenient and practical. It is made of heavy duty construction and sturdy metal instead of plastics and come with all needed quality hardware parts like brass adapter and COLD/HOT supply line, no need to purchase separately.
The bottle washer thoroughly rinses residue in seconds, with high-pressure water jets that reach where you can't. From baby bottles to glasses or tea cup, it conveniently rinses virtually any drinkware, so you can spend less time soaking and scrubbing.
YBB Steaming Pitcher Rinser, Glass Cleaning Rinser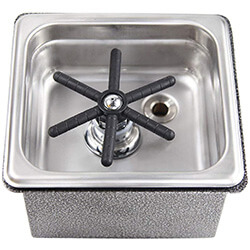 The portable cup washing machine rinser is an efficient way to clean all cups and vessels. It allows you to clean the milk deposits and coffee stain. The water will spray into the vessels and get them clean.
Perfect washing performance with cold water! The pitcher rinsers won't broke the glass and could clean the lipstick and other besmirch easily and clearly! The rinser could be shutdown once you take off the vessels which can save water and energy. It is suitable for many types and sizes of glass and cup and most restaurants, coffee shops and cafes.
Glass Rinser By Barista Basics I National Safety Foundation Approved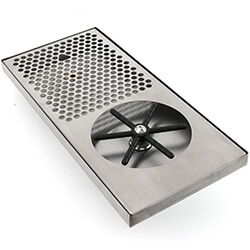 Barista Basics side spray rinsers are made of stainless steel and conform to the National Safety Foundation's NSF/ANSI 169 – Special Purpose Food Equipment and Devices standard. This cup rinser features an improved flow channel for optimal drainage; simple one touch (push-down) operation; an integrated drying rack and high pressure water streams that clean drinkware from 1″ to 4.5″ in diameter. Comes with a 3/8″ John Guest style push fitting cold water connector and 1/2″ barb fitting drain connector, you can install it by yourself easily.
Beati Matte Black Glass Washer for Kitchen Sinks,Cup Baby Bottles Washer Cleaner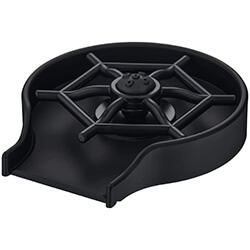 This Cup Cleaner for sink is a DIY alternative to soap dispensers, kitchen sprays or sink hole covers, and a perfect addition to your kitchen faucet. It connects to hot or cold water using the supplied water supply hose. From baby bottles to wine glasses to travel mugs, it conveniently rinses almost any beverage container so you can spend less soaking and scrubbing. A powerful stream of water rinses residue thoroughly in seconds, while a subtle overhang directs the flow into the kitchen sink for easy cleanup.